Hajiya Sadiya Farouq Pushes For Safe, Dignified Return of Nigerian Migrants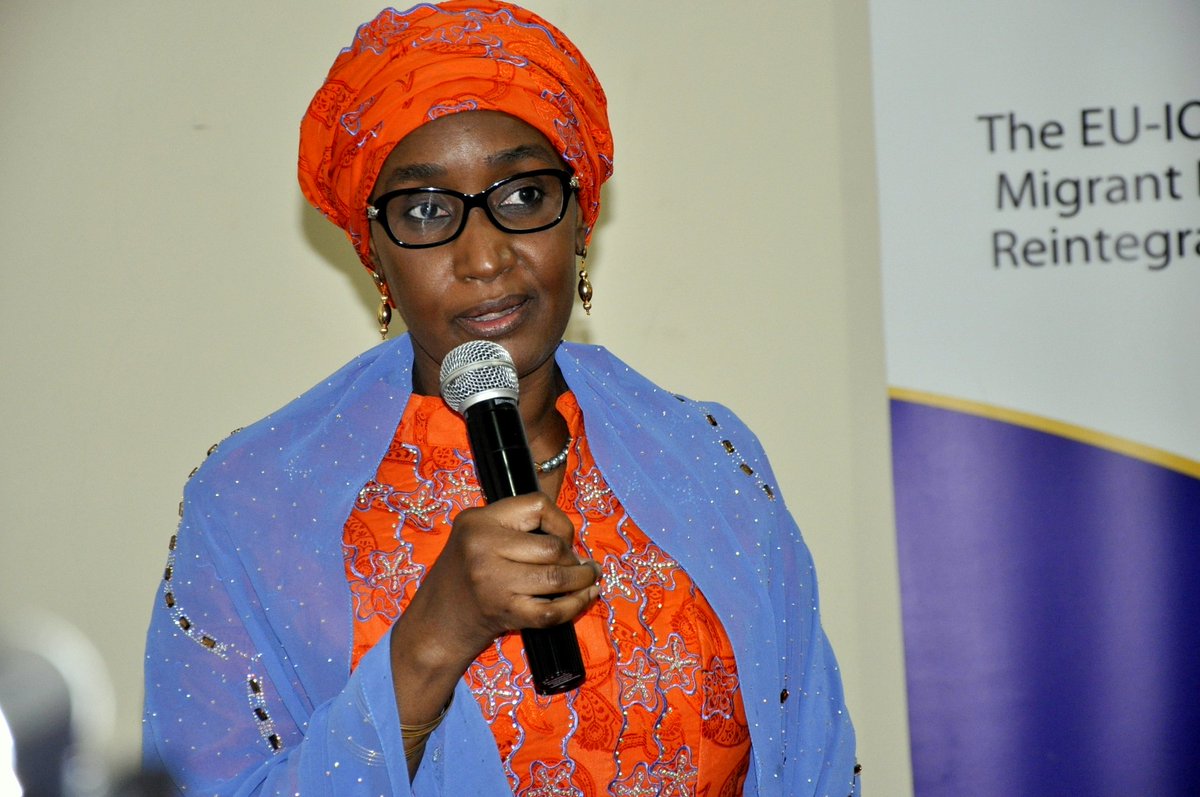 Hajiya Sadiya Farouq, the Federal Commissioner, National Commission for Refugees, Migrants and Internally Displaced Persons (NCFRMI), has called for the inclusion of safe and dignified return of Nigerian migrants as a critical element in the Global Compact for Migration (GCM).
Farouq made the call on Thursday in Abuja during the Technical Working Group meeting on Migration and Development in Nigeria, a preparatory meeting of the Global Compact for Migration (GCM).
The News Agency of Nigeria (NAN) reports that in September 2016, the UN General Assembly adopted the New York Declaration for Migrants and Refugees through which member states are committed to developing a global compact for safe, orderly and regular migration.
According to Farouq, the dignified, safe return and protection of Nigerian Migrants in other countries regardless of their migratory status, are very critical issues to be pushed for in the GCM.
Farouq said that deliberations from the meeting would focus on developing a roadmap for conducting a National Consultation for the development of a common position of Nigeria for the GCM and the Global Compact for Refugees (GCR).
She said that the GCM was being developed through an open, transparent and inclusive process of consultation and negotiations, which would culminate in the intergovernmental negotiations that would take place in September 2018.
The Federal Commissioner said that having a National Consultation aims at providing a unifying position, commitment and understanding among all stakeholders, which would become Nigeria's narrative on Migration issues.
In her remarks, Ms Enira Krdzalic, Chief of Mission, International Organization for Migration (IOM) in Nigeria, said that the objective of the preparatory meeting was to identify priority areas for Nigeria to be discussed during the National Consultation meeting.
Krdzalic said that IOM would continue to support the government and stakeholders on the implementation of policy action plans.
She said that the meeting brought together representatives from relevant UN agencies, Ministries, Department and Agencies (MDAs) as well as Civil Society Organizations (CSOs) involved in Migration management.
According to her, this is to facilitate sharing of information and institutional collaboration and coordination of Migration management.
Also speaking, Mrs Abike Dabiri, Senior Special Assistant to the President on Foreign Affairs and the Diaspora, urged African governments to brace up and address the challenges plaguing the continent so that its Citizens would not have cause for illegal Migration.
She said that it was time for African nations to harness its potential and show the world that the continent is a place where nationals of other countries would want to migrate to its citizens are not second class.
Dabiri said that this would begin with the change in the attitude of Africans and good leadership.
She urged participants to discuss on the thematic points as it affects Nigeria and come up with resolutions that would make positive impact on the