SON Apprehends Syndicate Producing Substandard Paints in Rivers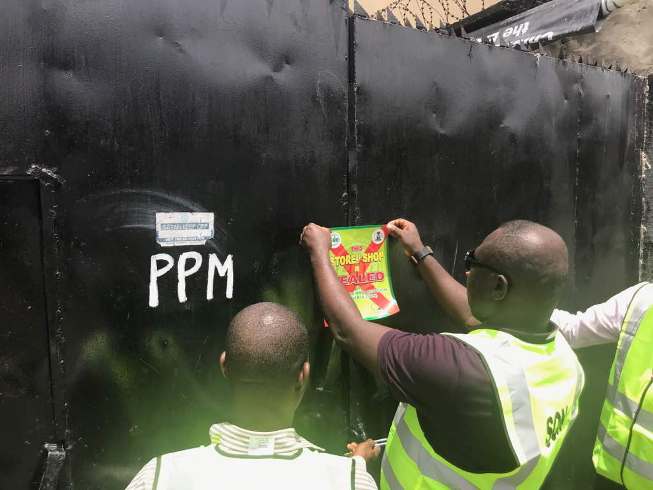 The Standards Organisation of Nigeria (SON) has apprehended a syndicate that specialises in the production of substandard and adulterated paint products in Port Harcourt, Rivers following a tip-off from well-meaning Nigerians.
Mr Bola Fashina, Head, Public Relations of SON said on Thursday in Abuja that the operation followed weeks of surveillance activities by the SON officials and security agencies.
The residential areas where the unwholesome activities were discovered according to him are in Rumuobiakani, Ada George and Eloparanwo, all in Port Harcourt.
Fashina quoted Mr Ayoola Ololade, SON Coordinator for Rivers and Bayelsaas saying that the 200 units of 20-litre buckets of paints and 70 bags of calcium carbonate materials were discovered at Rumuobiakani.
Ololade said that the syndicate was about to start production at Ada George and Eleoparanwo sites when SON officials arrived and sealed up the two premises.
He said that about 50 used 20-litre cans of paints were found at the sites.
"The uncertified paint products being produced by the suspects include Planet Coat Acrylic Emulsion, purportedly being produced at 9th Mile Enugu and Olamac Emulsion Paint.
"They were also found to be adulterating popular, certified made-in Nigeria paint products, including Sloak and Saclux while children and pregnant women engaged in washing used paints buckets for recycling,'' Ololade said.
He said that aside the economic sabotage associated with these activities, the chemicals used in paints production posed serious danger to human health.
Ololade said it also posed serious danger to the environment, if not properly handled as provided for in the relevant Nigerian Industrial Standard.
He said that existing research had clearly established the damage that results from even low levels of heavy metals like lead and arsenic when acquired involuntarily and present in the blood.
According to him, poisoning from the metals is usually due to exposure which is either acute or chronic.
"In the case of paint, involuntary inhalation creates a build up in the body over some months and years which then attacks organs, tissues and bones and causes alterations within the human body systems.
"The most evident effects are often related to cancer,'' he said.
Ololade acknowledged the support of well-meaning Nigerians in providing classified information to the agency on the unwholesome and dangerous activity.
According to him, the organisation will not relent in its efforts to apprehend substandard and life-endangering products and the perpetrators in line with its enabling Act No. 14 of 2015.(NAN)