The Bowing Out Of a Quintessential Public Servant
In the Journey of life, there is always a time for welcome and a time to say goodbye. There is a popular saying that whatever has a beginning must surely have an end. And that is the story of Hajia Lami Tumaka's sojourn in Public Service.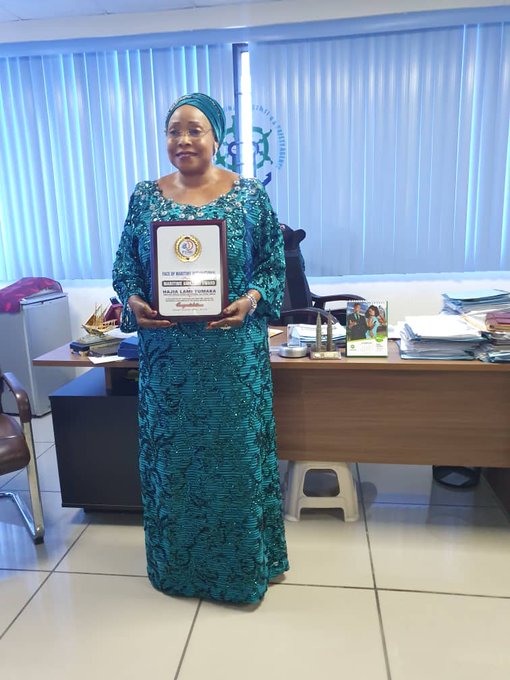 Hajia Lami Tumaka's journey into Public Service which started at the Army Day Secondary School, Jaji Kaduna State as a teacher in 1981 after the compulsory one year National Youth Service programme, has come to an end upon attaining the retirement age of 60.
Hajia Tumaka's career in the teaching profession did not last so long. This is perhaps due to her natural leaning towards communication and public relations which has epitomised her illustrious career.
She was later to join the services of the Nigerian Television Authority (NTA) where she rose to the position of a News Editor while serving in NTA Minna. She left the NTA to join the private sector as the Public Relations Manager of Peugeot Automobile Nigeria (PAN) Limited, Kaduna. In 1998, Hajia Tumaka was to return to the Public Service when she joined the services of the then National Maritime Authority (present day Nigerian Maritime Administration and Safety Agency NIMASA) as a Chief Research Officer.
It was while in NIMASA where she is bowing out of service that her true potential were brought to the fore for all to see and appreciate.
Hajia Tumaka is a passionate woman who believes that with focus, hard work and perseverance, women can rise to become anything in society. This in-born trait pushed her into acquiring more knowledge after her first degree, Bachelor of Arts in English Literature from the renowned Ahmadu Bello University (ABU) Zaria. She went on to earn a Masters in Business Administration (MBA) from the same University.
Hajia Tumaka was also at the TV College Jos where she obtained a Certificate in
Basic Film Production with Distinction. She also attended the prestigious Holborn College, London where she bagged a Diploma in Public Relations.
With a solid educational foundation, a compassionate spirit and a commitment to diligence, Hajia Tumaka has always crested her name in gold in every position she has held. Little wonder that every individual who has come across her either in her private or official capacity always has testimonies to tell.
Her patriotic zeal and official finesse has seen Hajia Tumaka work very cordially with over 10 Directors General in NIMASA in the course of her 22 years in its service, with each one of the DGs retaining fond memories of her. Indeed she is a woman to reckon with when it comes to serving one's fatherland.
A quintessential public servant, Hajia Tumaka distinguished herself as a Public Relations professional and particularly as the image maker of NIMASA, a position she held at three different occasions. She was awarded the Maritime Media Personality award back to back in 2011 and 2012 and was also a recipient of the Best Maritime Industry Public Relations Officer award which she won through a poll, among several other honours.
In 2016, Hajia Lami Tumaka was named amongst the top 100 global Public Relations Practitioners in the world for mentees to follow by EvanCarmichael.com worldwide, a Toronto based firm dedicated to helping others succeed by monitoring their progress and influence in their professional and entrepreneurial careers.
Hajia as she is fondly called, is a Fellow of the Nigerian Institute of Public Relations (FNIPR), Fellow Chartered Institute of Transport Administration Nigeria (FInstTA), Member Women's International Shipping and Trading Association (WISTA) Nigeria and Niger State Media Women Association among others.
Hajia is a proud mother and grandmother with three lovely grand children.
Although Hajia Tumaka will soon be bowing out of office on attainment of 60 years, she would be remembered by friends and colleagues for her selfless services to Nigeria and humanity.
Even though retired, Hajia Tumaka is not tired as there would be better and bigger calls to service to the nation in the months and years ahead.
For many of us, your career has been a role model. As you are retiring you should know that you have made a remarkable and tremendous contribution not only in the Maritime industry and the Corporate world alone but that you have touched the lives of humanity in immeasurable ways.
Go yee forth and foster in the larger society, the sky is your stepping stone and God your forever guardian. Ameen.