COVID-19: Ex-speaker, Dogara donates food items to constituents.
Former Speaker of the House of Representatives, Yakubu Dogara has  distributed foodstuffs to the poor and vulnerable members of his constituency by proxy.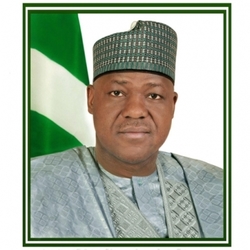 The Chairman of the distribution committee, Alhaji Aminu Tukur said in Bauchi that the foodstuffs would help to cushion the effects of the partial lockdown and Ramadan among the indigent people of Bogoro, Dass, and Tafawa Balewa Federal Constituency.
Tukur said the target beneficiaries included the poor, the physically challenged, and widows in the constituency.
He assured that the items would be distributed to protect the integrity of the former speaker and member of the committee,
The food items distributed include 3,200 10-kilogramme bags of rice, 3,200 10-kilogramme bags of maize flour, 100 bags of sugar, and 600 cartons of spaghetti.

Tukur, a former lawmaker in the state House of Assembly, explained that a sharing formula had been approved by the former speaker.
"The items to be shared to the three local governments of Tafawa Balewa, Dass, and Bogoro.

According to him, the Muslim community will get 60 per cent of the foodstuffs, while the Christian community will receive 40 per cent.
He, however, stressed that the sugar would be given to only the Muslim community because of Ramadan.

"50, 30, and 15 per cent was allotted for the Muslim community in Tafawa Balewa, Dass, and Bogoro local governments respectively.
"While 5 per cent would be given to the Ulamas (Islamic clerics).

"For the Christian community, 50, 30 and 20 per cent would benefit in Bogoro, Tafawa Balewa and Dass respectively," he said.
Tukur advised all citizens to adhere to the safety measures put in place by the government and to observe band washing and social distancing, among other safety protocols.
Responding on behalf of the constituents, Dr Yakubu Yahaya, (Bogoro), expressed appreciation to Dogara for remembering his people at such a difficult period.
He said the gesture would ameliorate the suffering of the people. (NAN)