Enugu State Wins 2018 NNPC Science Quiz Competition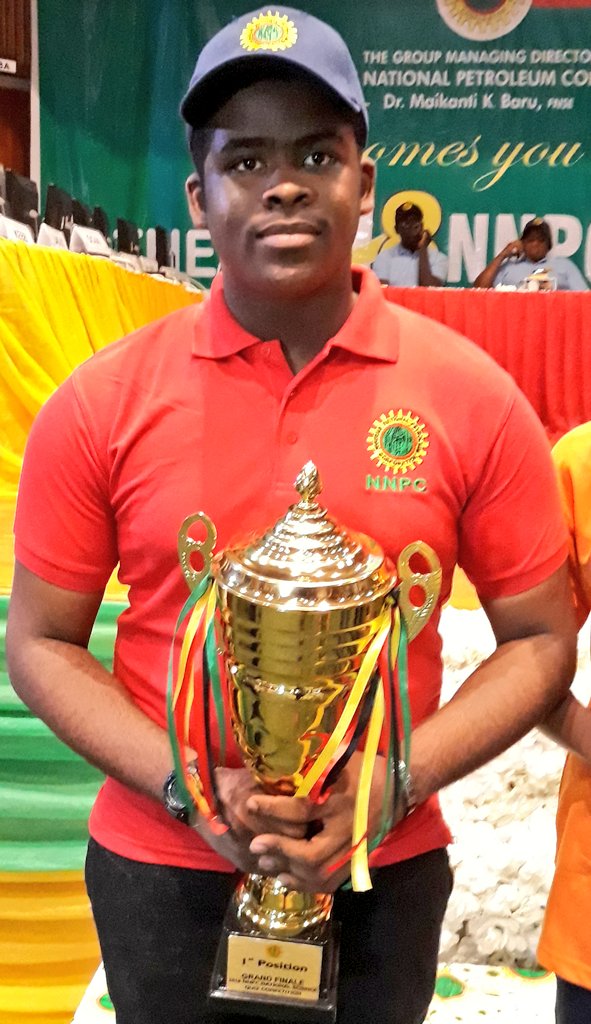 Master Okeke Tony of Spring of Life International School, Enugu, scored 75 points to win the 2018 Nigerian National Petroleum Corporation (NNPC) Science quiz Competition in Abuja on Tuesday.
Igban Emmanuel of Ambassadors College, Ota, Ogun, took the second place with 65 points, while Alikah Joseph of Bosco Science Academy took the third position with 60 points.
The event which was the 16th edition of the competition.
The competition started in 2000 but was limited to schools in the Niger Delta region.
In 2001, NNPC expanded the participation to all states in the federation.
The major objective of the competition is to implement core elements of NNPC corporate social responsibility, promote science education and prepare students for promotional and qualifying examinations.
It is also meant to build friendship among students, promote competitive spirit, engender national unity, among others.
The Group Managing Director of NNPC, Dr Maikanti Baru, at the Grand Finale, said the winner of the competition would get N300,000 annually throughout his tertiary education period,.
Baru also said the second person would receive N250,000 annually and the third would get N200,000 annually.
He also announced that Edo State Government gave the student from the state one million naira.
Baru said that after evaluating the past 82 participants of the competition, the corporation noted that it was worth continuing following the success stories it had recorded.
" The report reveals that 50 per cent of the past winners of the quiz contest studied engineering, 40 per cent medical sciences and four per cent natural sciences.
"This gave a 94 per cent success rate of all participants continuing with the study of STEM fields.
"I feel humbled to report that all the past winners of the contest that are professionally engaged are doing very well," he said.
Baru said that the competition had fulfilled the objectives of the founding fathers and would continue for the growth and development of the country.
He commended Gen. Yakubu Gowon for instituting the National Youth Service Corps Scheme, adding that it had served as model for other unifying projects.
" Gowon laid the foundation of unwavering unity of the country and we will continue in that footstep, " he said.
In his remark, the Minister of State for Petroleum Resources, Dr Ibe Kachikwu, commended the corporation for mounting the competition.
He urged the corporation to extend the competition to those offering arts subjects in school.
" I totally endorse the idea of including those studying art subjects in the competition, may be for two reasons, many of them make good wives.
"Secondly, they would also be encouraged considering how well those in sciences have done, " he said.
He commended NNPC for tracking the performance of past winners of the competition, pointing out that such tracking showed how deeply committed the corporation was with the project as well as its contribution to the growth and development of the oil sector.
He advised participants and winners to utilise every opportunity the competition would provide to better their lives.
"Use the opportunity to build your character, personality and learn good process of competition for greatness in life, " he said
Kachikwu further advised the participants to shun ethnicity and religious bigotry but to use the opportunity of the completion to be a strong force for national unity.
Two former military heads of state, Gen. Yakubu Gowon and Gen. Abdulsalami Abubakar as well as Gov. Godwin Obaseki of Edo and Gov. Darius Ishyaku of Taraba, among other dignitaries attended the event